Mike Bottaro's Testimony
As you learn more about our law firm, I am most proud of our people and the core values we strive to follow each day in helping you, our client. At its best, personal injury law provides justice for those injured through no fault of their own. We have an opportunity to stand up for your rights against powerful corporate interests.
As firm founder, you may be interested in my journey and influences that have shaped Bottaro Injury Lawyers into a leading personal injury firm in Rhode Island and Massachusetts. 
From an early age, my parents raised my two brothers and me in a loving home. My dad was a first generation Italian American who was the first to attend college. My mom grew up in a large mostly Irish family. Both attended catholic high school and met in college. They settled in a suburb and raised us while my dad started an accounting business and my mom taught English. I can recall my dad working hard during tax season to support us. 
My dad instilled the work ethic in me. At an early age, I worked a newspaper route. I also waited tables and countless other jobs growing up. My mom nurtured a softer side in me, teaching about loving others, kindness, and generosity. As an English teacher, she fostered my love for reading that continues to this day!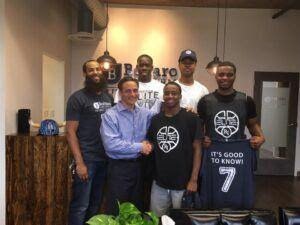 When I left home to attend Boston College and later law school at the University of Colorado, I always loved to read, learn, and work. I knew then only that I wanted to "be successful" and to somehow "help people." I was drawn to stories of injustice in studying politics and literature and I had the opportunity to see firsthand poverty in our country on a Habitat for Humanity trip.
During college, a Boston lawyer's story about helping sick families stand up to large corporations was an inspiration for law school. I was drawn to the University of Colorado for its beauty and tranquility. Trying different areas of law, I stumbled upon a clerkship with a personal injury firm and instantly enjoyed the challenge of fighting for justice for everyday people.
While I was raised going to church, it was after the birth of my daughter that I began to seek God. It's hard to have a child without thinking about others and your own mortality. By that time, I had settled in Rhode Island after a decade of experience working as an appellate judicial clerk and at other litigation firms. That is when I founded the firm by myself and very few cases. It was tough, but I loved what I did and had a vision of practicing personal injury law differently from what I had seen. I wanted to flip the script on the public's generally negative perception of personal injury law. 
The challenges of a young family and business forced me to recognize that I was not in control and could not do it all on my own. One day after moving to a new town, we stumbled into a new church (Christ Church). We encountered a lively modern worship band, eclectic art, and a legendary Pastor, Lyle Mook. The church focused on the Bible, small groups, outreach, and global missions. God's timing is perfect. For the first time in a while church folk inspired me. I began to read God's Word regularly, getting involved in small groups and bible studies. I met strong men of God for coffee who openly discussed their faith, prayer time, and their own testimony. "Iron sharpens Iron." And my perspective on religion began to change to wanting a relationship with Christ.
Now as we continue to grow, it is this faith and wanting to be a better servant leader to others that ignites the passion in me.  Through life's peaks and valleys, we can appreciate God's grace for us.  Our firm is as intentional in our ministry work as we are in providing top personal injury representation.  Thank you for reading.  Please feel free to contact me anytime. God Bless you on your journey!