Experienced Rhode Island Personal Injury Lawyers
At The Bottaro Law Firm, our passion is helping people. When injuries occur, insurance companies will try to deny you justice. Founding partner Mike Bottaro personally fights throughout Rhode Island and Massachusetts for you with honesty, integrity, and hard work. At Mike's innovative firm, he has achieved a growing following by obtaining maximum benefits in the shortest time period through diligent preparation and skillful representation. The firm's exclusive "No Fee Guarantee," means you obtain the highest quality legal representation without any upfront fees.
What To Expect: Caring, Personal Attention, and Extraordinary Results
The legal team is committed to serving you, the client. Your case will not get lost as it can at a "big box firm" or insurance company. The Bottaro Law Firm returns all phone calls and regularly updates you. The firm's financial resources gives you the latest legal technologies to relentlessly pursue and win your case. Mike is locally based serving Rhode Island and Massachusetts communities. This means that you can harness the firm's knowledge of the local courts and insurance companies to your advantage.
What Our Clients Say
"Going to The Bottaro Law Firm was
the best decision I made
after getting into an auto accident. Having Mike Bottaro on my side made all the difference in the world. He is efficient, friendly and get things done in a timely manner. I was treated like a person rather than just another client."
more >>
"I never felt abandoned while I was working with Mike and
would recommend him to anyone
with a personal injury case. You will be treated kindly and you will also have the assurance that he is keeping up with your case and working hard for you."
more >>
"
Mike fought hard against Allstate for us
. When they wouldn't settle, Mike filed suit, attended depositions and arbitration. Ultimately, Mike was able to obtain a fair settlement. I highly recommend Mike as an RI personal injury lawyer who truly cares about each and every client."
more >>
Recent News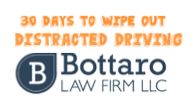 Cranston Law Firm Campaigns to Wipe Out Distracted Driving
The Department of Transportation has designated April as "Distracted Driving" Awareness month, a time to remind millions of Americans about the dangers of all types of distracted driving. Learn more about our public safety campaign. read more >>
---
Rhode Island Injury Lawyer Mike Bottaro Nets $300,000 Settlement For 6-Year-Old Boy
The Bottaro Law Firm is pleased to announce the recent resolution of a 6-year-old boy's personal injury case resulting from a highway car accident… read more >>