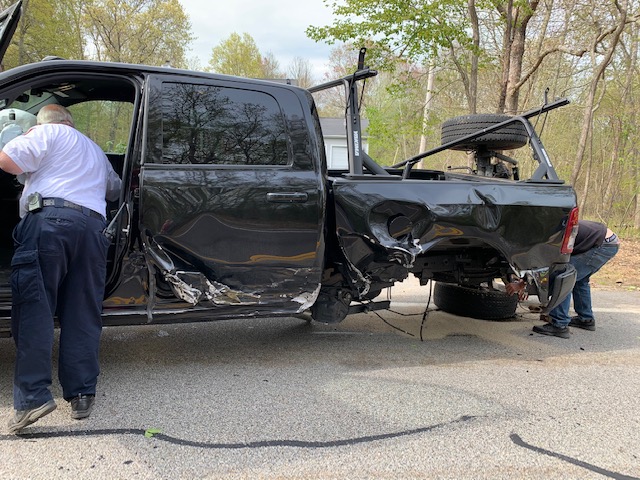 For over 20 years, I have been proud to stand up for the rights of the injured. In Rhode Island and Massachusetts where we practice personal injury, drunk driving continues to be a problem.
Westerly Rhode Island Car Accident By Wrong Way, Intoxicated Driver
In one recent case, police arrested a driver who caused the following car accident in Westerly, RI.
Our client is a husband, father, and small business owner.  As he was traveling in his pickup truck, the defendant attempted an illegal pass.
As a result, the defendant swerved into oncoming traffic and sped down the wrong side of the road. Trying to avoid a collision, our client veered off the road into the embankment. Unfortunately, he wasn't fast enough and the at-fault driver smashed into the back of his truck taking off the entire back axel.
With the help of witness testimony, Westerly police were able to arrest the driver for being under the influence.
Back Pain Personal Injury in Rhode Island Car Accident
In Rhode Island and Massachusetts, accidents resulting in personal injuries to the back can leave you out of work for months. I have decades of experience to ensure you'll get the help you need. We don't rest till you're fully compensated.
In this case, our client found himself with multiple personal injuries to his back, neck, and forearms. Upon extraction from the vehicle, he was immediately placed in a neck brace and rushed to the hospital.
Suffering for months our client would endure over 24 weeks of physical therapy before being able to return to work.
As a self-employed general contractor time was of the essence to our client. My team and I worked round the clock on this case to settle it in less than 6 months.
It's Good to Know Mike Bottaro – 24/7 Top Rated Car Accident Legal Help
At the Bottaro Law Firm, LLC, we handle all types of personal injury cases such as car crashes every day. Honesty. Integrity. Results. Our experienced attorneys are here to fight for your rights. Contact us in any method you prefer 24/7 for a fast, free, and confidential consultation about your case. Text or call: 401-777-7777 or fill out our free and confidential online form.