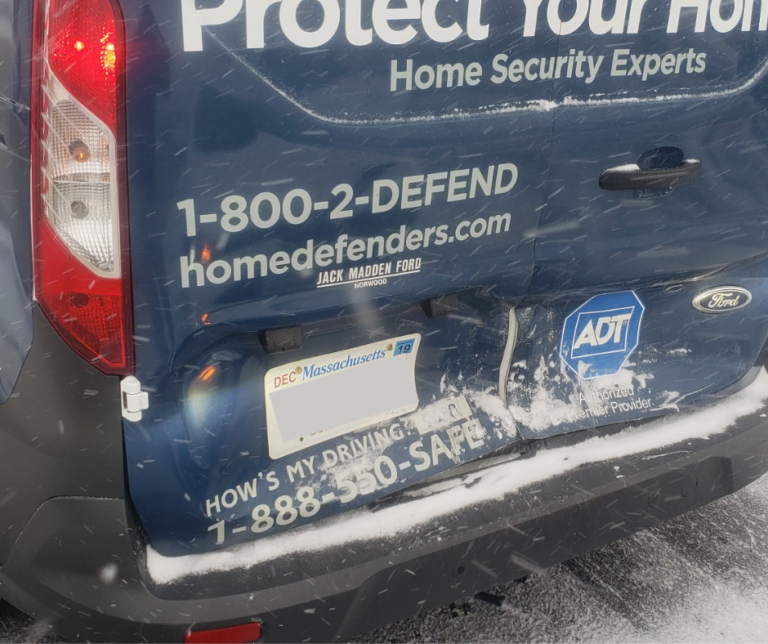 Did you know that if you are injured in a car crash while on the job, the law provides that you may recover both workers compensation benefits and personal injury benefits? This is personal injury lawyer Mike Bottaro and today, I am blogging about one of my recent case successes helping a longtime husband, father, and worker after a very bad Westborough, Massachusetts car accident.
Personal Injury Lawyer Insight: What Happens After A Massachusetts Rear End Car Accident?
The actual car accident here is something that we here at the Bottaro Law Firm, LLC handle every day – a highway rear end crash.  Our client was a senior sales representative earning a very good living with a very good work record.
Our client was going about his typical work day, on the road in the company van when another driver suddenly slammed into him –a serious rear end car accident. Obviously, the other Massachusetts driver was at fault in this car accident.
And there was no doubt that our client suffered greatly. Although he had an underlying spine condition, it was not painful and he had worked the same job for decades with no prior work injuries or car accidents.
Due to this Mass. Car accident, he needed the best personal injury lawyer! For the first time, our client was inundated with insurance claims forms, harassing calls, work comp forms, requests for statements — all while he was experiencing excruciating neck pain and left arm pain.
These injuries were later diagnosed through MRIs and other imaging studies as serious – a cervical disc herniation and a left ulnar nerve injury (epicondylitis and cubital tunnel syndrome). Both injuries require surgery.
So, our client was facing a challenging time with no experience dealing with insurance companies, workers compensation people, and these types of injuries. He called me here at the Bottaro Law Firm, LLC (401-777-7777) and we gave 24/7 service, getting right on the case!
How Does MA Work Comp Work With Rear End Car Accident?
When you have a Massachusetts employer and are involved in a car accident with personal injuries on the job, you may actually have two (2) legal claims: (1) workers compensation; and, (2) third party bodily injury (personal injury).
In speaking with our client and investigating the claim, I understood that was exactly what we had here. So, after he hired us (with our No Fee Guarantee – no fees, costs, etc. unless and until we win the case, working on a commission), the team at the Bottaro Law Firm, LLC and me got right to work.
We had to ensure both claims were set up accurately and that the work comp carrier was following the law to provide our client with immediate money – work comp benefits should start right away once you are properly restricted form work due to injuries from the car accident.
Meanwhile, in the personal injury car accident case, we had to start investigating the case to ensure that we satisfied our burden of proof that the other driver was at fault and that our client's serious injuries were caused or aggravated by the crash as opposed to any pre-existing conditions. This takes expertise, knowledge, and expertise (I am very proud to be celebrating 20 years as a licensed attorney!). Our team has decades or combined personal injury experience – it is all that we do!
How Much Is My Herniated Disc Case Worth? How Much Is My Nerve Injury Case Worth?
"How much is my case worth?" is a question that at some point every personal injury client wants to understand. After all, if you have suffered a personal injury in Massachusetts and Rhode Island where we practice law, you have suffered and are entitled to justice.
I have written and been interviewed many times about this important question. This is an in depth question that requires analysis based on a number of factors specific to your case!
In our client's case here, my goal was to build a strong case on all legal elements. The nature of a disc herniation and a nerve injury is that they can be considered more serious injuries that can lead to surgeries, and an altered quality of life.
In this case, my client and I were proud to ultimately secure the maximum settlement possible – we recovered the policy limits of $250,000.00 to settle his herniated disc and nerve injury personal injury case!
It's Good to Know Mike Bottaro – 24/7 Top Rated Legal Help
At the Bottaro Law Firm, LLC, we handle all types of personal injury cases every day. Honesty. Integrity. Results. Our experienced legal team is here to fight for your rights. Contact us in any method you prefer 24/7 for a fast, free, and confidential consultation about your case. Text or call: 401-777-7777 or fill out our free and confidential online form.