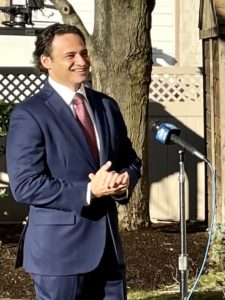 As the Christmas season fast approaches I have been taking time to reflect on our grade school kids around the state and the world. As this pandemic has been keeping our children out of school and away from the classroom; I've been concerned that the kids may be falling behind in areas such as reading and writing. Literacy is such an important factor for the future success of these kids.
I've been blessed to be given this massive platform and I feel it's my reasonability to use it for good.
As a follower of Christ I often ask am I glorifying God in everything that I do. So when the opportunity to appear on the Rhode Show came up I wanted to make sure that I maximized my time on the program. Having worked with Books Are Wings in the past I knew of the great work they do.
In an effort to help the families and children of Rhode Island I thought it best the ministry donate $5000 to Books Are Wings. Books Are Wings is an amazing charity that was founded in the early 2000's. Their mission is to put free books in the hands of every child. Through their various programs, they've been able to touch students of every grade level from Pre-K through high school. In 2018-2019 they were able to provide 77,000 free books to children through their early learning book parties, community distribution, and summer programs.
How Can I help Books Are Wings:
Books Are wings has had to make some changes due to the pandemic. Their Literacy Partnership program had been a series of in-person events.
Ever since the pandemic hit in March they've been able to adopt this program and created the Book Bag Project.
This ensures that children still have access to books even though the schools are closed. Books are Wings has been able to partner with the Providence Public School Meal site locations, The Progresso Latino food pantry in Central Falls, and many more locations. At each location, books are placed in plastic bags and labeled for viewing making distribution easy. If you are looking to help Books Are Wings is seeking book donations along with funds to purchase new books. Other hot items are plastic bags, boxes, and labels. They are also looking for volunteers to help bag and distribute books at the locations. For more information head to BOOKSAREWINGS.ORG
It's Good to Know Mike Bottaro – 24/7 Top Rated Car Accident Legal Help
At the Bottaro Law Firm, LLC, we handle all types of personal injury cases such as car accidents every day. Honesty. Integrity. Results. Our experienced legal team is here to fight for your rights. Contact us in any method you prefer 24/7 for a fast, free, and confidential consultation about your case. Text or call: 401-777-7777 or fill out our free and confidential online form.